Licensed and Insured
CPC 1458139
U-22176 ​
Certified custom pool contractor, service, repairs​, remodel, pavers and more.

Here at Palm Pool and Spa, Inc., we have provided superior service to customers all across South Florida since 2000. We are fully licensed and insured to carry out our jobs. We guarantee we can turn your backyard into a dream vacation spot.
CONTACT US
Phone: 561-792-5326​​
Fax: 561-792-0788

officeadmin@palmpoolspa.com
- Servicing Palm Beach County Since 2000 -
Wellington, FL - May 9, 2016
When Ron Neal was building his new Wellington, Florida, home he sought the guidance and expertise of Palm Pool and Spa, Inc. to lead him in creating a pool and Jacuzzi in his backyard that exuded both elegance and craftsmanship.

Palm Pool and Spa, Inc. is a fully licensed and insured business that specializes in designing and installing certified, custom pools as well as providing weekly services and repairs to their 200 accounts.

The experts at Palm Pool and Spa, Inc. are also able to provide remodeling, water features, new pool equipment, heater installations, decking, paver driveways and sidewalks, travertine, precast and even rubber pavers for horse barns.

In working with Neal and Mason Phelps, the entire process of designing and installing the euro-edge pool was seamless from start to finish for both client and contractor.

Adam Hall of Palm Pool and Spa, Inc. said, "It was absolutely amazing. It was a pleasure working with them. They are probably the nicest men I have ever done business with. I would love to do further work with them."

Hall worked with Neal and Phelps daily to make their dream a reality. The total collaborative process took about 90 days, according to Hall.

"We try to work with all of our clients to fulfill their vision to the highest standards of what they want," said Hall.

A family owned and operated company, Palm Pool and Spa, Inc. is known by its loyal customers for providing the highest quality services in Wellington for nearly 20 years. The company is licensed by the state of Florida and boasts an excellent standing with the Better Business Bureau. The knowledgeable staff members at Palm Pool and Spa, Inc. are happy to provide a free estimate upon request.

RON NEAL ASKELLIMAN®
Palm Pool and Spa, Inc. Makes a Splash at Ron Neal's Brand New Wellington Residences
Kelly and Adam Hall (owners) of Palm Pool and Spa, Inc. at Ron Neal and Mason Phelps' housewarming party. (Photo by Emily Riden/Phelps Media Group)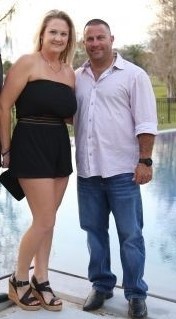 We specialize from new pool/spa construction, remodeling, water features, weekly pool service, all pool repairs, new pool equipment, heater installations, pool decking, paver driveways/sidewalks, horse barns/stalls (rubber pavers), travertine, and precast.